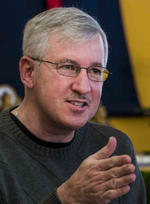 INTRODUCTION TO THE a.r.t. OF FULFILMENT (action, reflection, transformation)
with visiting guest speaker and teacher Don Handrick
Thursday, October 12, 2017
7:00 to 9:00pm
Native Women's Centre (see map)
21 Rosedene Ave. (just off Upper James, near the escarpment edge)
Hamilton, Ontario  L9A 4W3
The a.r.t. of Fulfilment (action, reflection, transformation) is a transformative course for anyone looking to lead a more fulfilling, meaningful and happier life. Learn effective exercises and practical techniques to enhance and enrich daily life through the three interconnected themes:
Inner Happiness – how an ethical framework of basic human values such as kindness and courage can be cultivated, embodied and enacted in daily life to create the causes for genuine sustainable happiness.
Good Heart – how empathy and compassion can be developed through simple practices for more caring, positive relationships in the family, community and society.
Clear Mind – how training in attention and awareness develops the skills to become free from disturbing mental habits and make positive choices within the complexity of modern life.
Save the date!
Fee is $15  
REGISTER 
Learn more about Don Handrick.
If you would like to volunteer for this event please email us at
peace@centreforsompassionandwisdom.com or call 905-296-3728