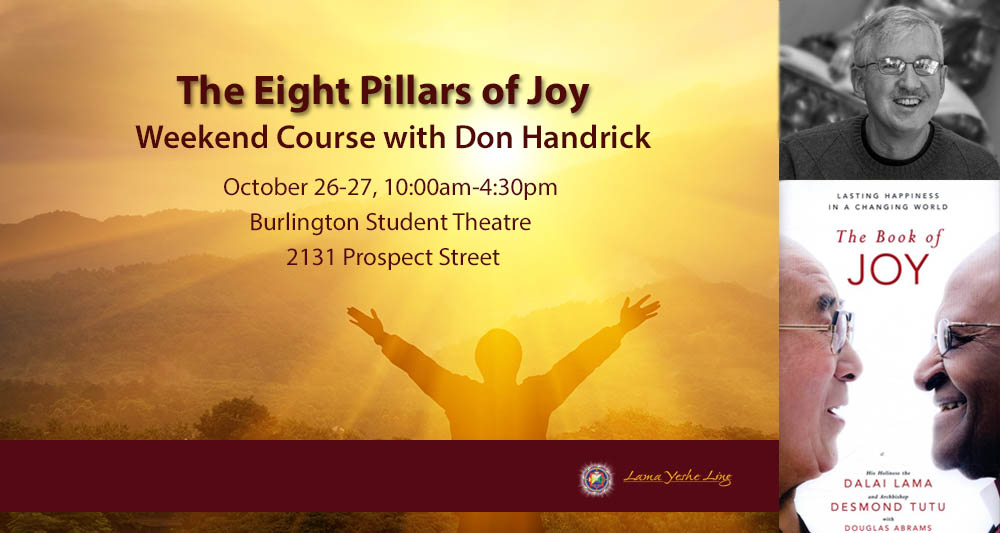 Weekend Course: October 26 & 27, 10:00am – 4:30pm each day
Course Fee: $95
In The Book of Joy, His Holiness the Dalai Lama and Archbishop Desmond Tutu discuss "true joy," which is a deeper and more dependable way of being that can be sustained and aid us through the many challenges of our lives. In the book, they outline eight pillars, or qualities, that are needed to cultivate true joy and provide a foundation for lasting happiness: perspective, humility, humour, acceptance, forgiveness, gratitude, compassion, and generosity. In this course we will explore our own potential for true joy by examining each of these eight qualities and discussing how we apply them in our daily lives.
Don Handrick is the Resident Teacher at Thubten Norbu Ling Buddhist Center in Santa Fe, NM, and he teaches for the FPMT at the Ksitigarbha Tibetan Buddhist Center in Taos, NM. Don also serves as a Buddhist teacher for Liberation Prison Project, which includes teaching Buddhism at a local prison in New Mexico. Don's study and practice of Buddhism began in 1993.  At the beginning of 1998, Don left the Bay Area to attend the FPMT's Masters Program of Buddhist Studies in Sutra and Tantra, a full-time seven-year residential study program in Tuscany, Italy, taught by the incomparable scholar and kind Spiritual Friend, Geshe Jampa Gyatso. By 2004, he successfully completed all five subjects of the program and received an FPMT final certificate with high honors. Soon after, Don moved to Santa Fe and served as the Spiritual Program Coordinator for Thubten Norbu Ling, and in 2006 he was appointed Resident Teacher.​​​
Location
Burlington Student Theatre
2131 Prospect Street
Burlington, ON  L7R 1Z2