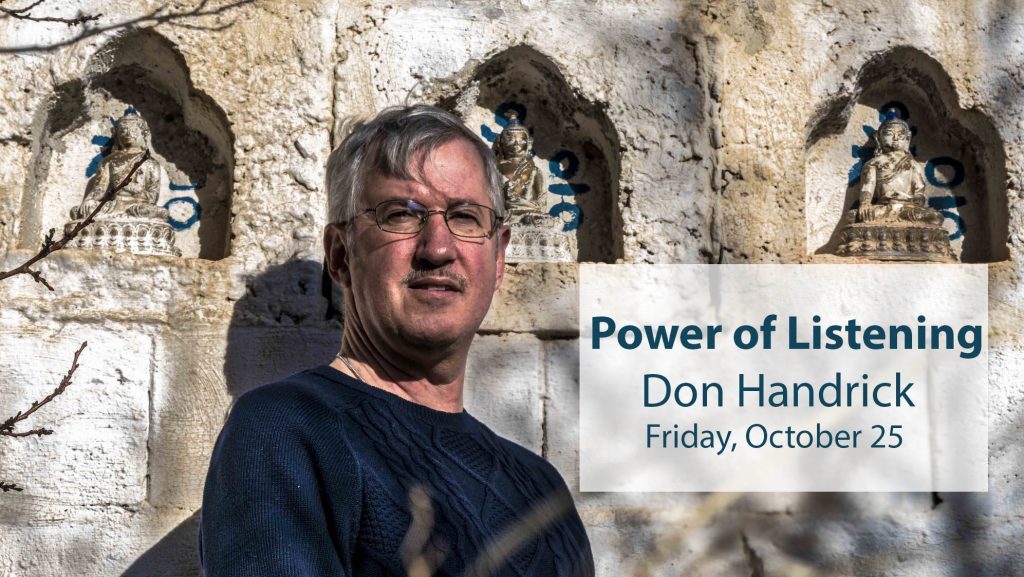 Suggested donation $15-$20 to support Lama Yeshe Ling's administrative costs in hosting this event.
Please contact [email protected] if the fee is an obstacle to attend this event.
The Buddha taught frequently on skillful speech and yet there is quite obviously a need to complement all of our speaking with the skill of mindful listening in order for our communication with others to be truly useful and beneficial. Regardless of our role or profession, without attentive listening, our interactions with others can often become powerless and ineffectual. In this teaching, we will explore the practice of skillful listening and the benefits that arise from developing an ability to listen from our hearts, opening up to others with wisdom and compassion.
Don Handrick is the Resident Teacher at Thubten Norbu Ling Buddhist Center in Santa Fe, NM, and he teaches for the FPMT at the Ksitigarbha Tibetan Buddhist Center in Taos, NM. Don also serves as a Buddhist teacher for Liberation Prison Project, which includes teaching Buddhism at a local prison in New Mexico. Don's study and practice of Buddhism began in 1993.  At the beginning of 1998, Don left the Bay Area to attend the FPMT's Masters Program of Buddhist Studies in Sutra and Tantra, a full-time seven-year residential study program in Tuscany, Italy, taught by the incomparable scholar and kind Spiritual Friend, Geshe Jampa Gyatso. By 2004, he successfully completed all five subjects of the program and received an FPMT final certificate with high honors. Soon after, Don moved to Santa Fe and served as the Spiritual Program Coordinator for Thubten Norbu Ling, and in 2006 he was appointed Resident Teacher.​​​
Location
East Plains United Church
375 Plains Road East
Burlington, ON L7T 2C7